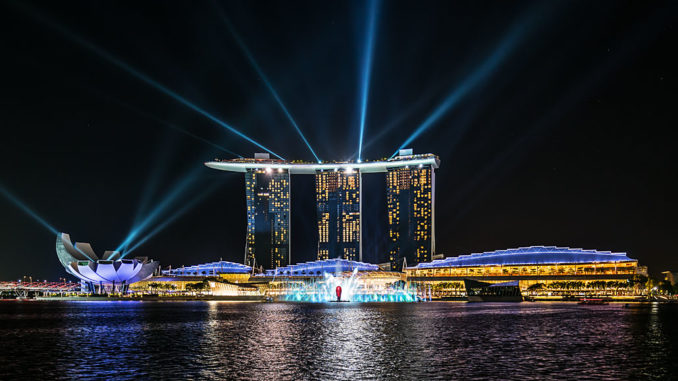 Anfang Juni 2017 feierte die neue spektakuläre Licht– und Wassershow SPECTRA am Marina Bay Sands in Singapur Premiere. Nach ungefähr 3 Monaten Bauzeit und 2 Jahren Planungsphase löste sie damit die vorherige Show WONDER FULL ab, die seit Februar 2011 lief.
Der wohl interessanteste Ausgangspunkt für Touristen in Singapur ist die Bucht der Marina Bay. Von hier aus sind die meisten sehenswerten Attraktionen direkt erreichbar. Dazu zählt zum Beispiel das zweithöchste Riesenrad der Welt Singapore Flyer mit einer Höhe von 165 Meter, das Art& Science Museum, das MBS Theatre, das Wahrzeichen von Singapur Merlion, die Helix-Bridge, der wunderschöne Gardens by the Bay und vieles mehr. Weltbekannt und nicht zu übersehen ist das große Hotel Marina Bay Sands mit seinen drei 191 Meter hohen Türmen. Diese Türme verbindet ein gemeinsamer 340 Meter langer Dachgarten und bietet den Hotelgästen einen spektakulären 146 Meter langen Infinity Pool (kantenloser Swimmingpool) mit direkter Sicht auf die Skyline und die Aussichtsplattform SkyPark.
Das Marina Bay Sands bietet den Besuchern von Singapur eine weitere spektakuläre Attraktion. Am Fuß des Hotels kann man von dessen Event Plaza jeden Abend eine fantastische Licht- und Wassershow in der Bucht erleben. Diese Show wurde in den letzten Monaten komplett erneuert und feierte am 2. Juni 2017 ihre Premiere. Mit großen Wasserfontänen und modernsten Wassereffekten von Aquatique Show International mit Projektionen, Licht und Lasern visualisiert SPECTRA die multikulturelle Geschichte von Singapur und zeigt mit futuristischen Bildern einen Blick in die Zukunft. Das Herzstück der Show bildet ein 12 Meter hohes Glasprisma, das in der Bucht verankert ist. Der Soundtrack von SPECTRA wurde von dem preisgekrönten Musik-Produzent und Komponist Kenn C aus Singapur komponiert und abgemixt.
Die kostenlose Show dauert ca. 15 Minuten und ist für jedermann frei zugänglich.
Termine der Show*:
Die Show findet aufgrund der COVID 19-Pandemie zur Zeit nicht statt!
Reguläre Showzeiten, wenn die Show wieder stattfindet:
Sonntag bis Donnerstag: 20:00 und 21:00 Uhr
Freitag und Samstag: 20:00, 21:00 und 22:00 Uhr
Sondertermine und weitere Infos gibt es hier zu sehen.
*Stand: September 2020
Bildergalerie
Beim Klick auf ein Bild erscheint dieses in groß und weitere Bilder können als laufende Show oder einzeln angesehen werden!
SPECTRA is a free-to-public outdoor light and water show displayed over the water at the Event Plaza at Marina Bay Sands in Singapore.